Lichaam
Wil jij een gezonde, prachtige en verzorgde huid?
Onze producten zijn ontworpen om de huid te verzorgen en versterken, om zijn balans te bewaren, zodat de huid zo lang mogelijk jong blijft.
De huid is het grootste orgaan in het menselijk lichaam, en speelt een cruciale rol als barrière. Het is de taak van de huid om het lichaam te beschermen tegen invloeden van buitenaf, terwijl het vocht en warmte vasthoudt. Onze producten versterken deze barrièrefunctie en bieden het lichaam de best mogelijke bescherming. Ons grote assortiment bevat producten om aan iedere behoefte te voldoen. Als je je huid extra voeding en vocht wil geven of de gehele dikte van je huid wil herstellen en repareren, of als je zoekt naar een probleemoplosser: wij hebben het perfecte product voor ieder huidtype.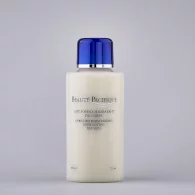 Free delivery on orders over €60
up to 30 days right of revocation