We Love Science
The skin is our biggest organ, and we need to take good care of it. Not just to look good, but also to stay healthy and protect it from dangerous free radicals that derive from e.g. air pollution, sun light and cigarette smoke.
Our skin is exposed to many outer factors each day. These factors, such as air pollution and sun light, gradually break down the skin's collagen which cause it to loosen its elasticity and contribute to the formation of wrinkles and uneven skin tone.
Vitamin A is a long-term favourite skin care ingredient for fighting wrinkles and acne. There are different forms of Vitamin A. Some make the skin thin and more sensitive to light where as others strengthen, thicken and plump the skin, such as Vitamin A esters.
Beauté Pacifique uses two forms of Vitamin A: Retinyl Palmitate; and Retinyl Acetate. Both are esters of Vitamin A and are therefore much more gentle on the skin, and also fight free radical damage, compared to pure Vitamin A (Retinol). Vitamin A helps to rebuild collagen fibres and help to reinforce and rejuvenate the skin.
When starting out with a Vitamin A cream from Beauté Pacifique, you should apply it once every second day for the first two weeks to avoid irritation that may occur due to the active ingredients. Use preferably at night, as this is when the skin is most receptive towards the ingredients as it is at night the skin repairs itself. However, you can safely use our Vitamin A creams during the day as well, due to the use of Vitamin A esters in our creams.
Some of our popular products containing vitamin A:
Crème Métamorphique
A scientifically documented night creme that repairs sun damage and stengthens the skin's collagen fibre structure. Diminishes and prevents signs of aging while plumping and strengthening the skin.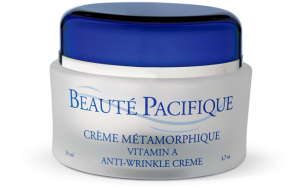 $103, jar 50 ml.
Read more here
Super3 Booster
Super potent Vitamin A cream that rejuvinates the skin's collagen and fibre structures and repairs sun damage while reducing the skin's production of sebum and preventing impure skin.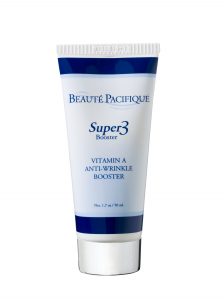 $104, tube 50 ml.
Read more here
Masculinity Anti-Age Creme
Powerful vitamin A cream for men that repairs sun damage and prevents thin and saggy skin while reducing wrinkles and fine lines. Due to its Squalane delivery system, it allows the ingredients to penetrate deeply into the skin to rebuild and strengthen deep underneath the skin's surface.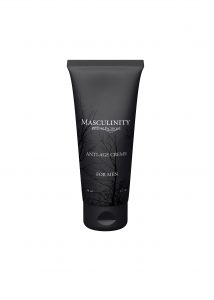 $88, tube 50 ml.
Read more here