Facial care /
Choose cleaning products with effect
Cleansing is the start to a healthy skin!
Some people do not know why it is a good idea – others find it difficult or simply forget it when the clock ticks towards bedtime and the eyelids become heavier.
The build up caused by pollutants in the air can be successfully removed and skin can be purified before bed without drying or causing itchy tightness. It's a really good idea to cleanse the skin – every single day – Even if you do not use make-up. Healthy skin starts with clean skin – Have you tried our NEW Vegan Clean Skin option now available in South Africa!

You see… First and foremost, we want you to get the most out of your skin care products. And you get that when you apply them on a cleansed skin.
Do it for the sake of skin care products
A cleansed skin absorbs creams / products much better, and you are therefore faster on the way to a beautiful skin when you remember to cleanse it. Simply said, you get the maximum benefit from your products when you cleanse your skin. In addition, with your cleansing routine, you can also optimize the effect of your skin care routines, because the cleansing products simply support the effect of the skin care products. For example, if you have dry skin, choose cleansing products that add extra moisture. When you cleanse your skin after a long day, where you have sweated, been out – and some days you might have had make-up on, you remove all dirt, grime and make-up residue that lies as an invisible layers on the skin and prevents your care products from providing the maximum effect, just as you avoid your pores clogging up.
Cleanse your skin for the sake of the skin
When you do not cleanse your skin, you allow sebum, sweat and dead skin cells to accumulate and get trapped under the skin because the hair follicles become clogged. Impure skin occurs when there is an overproduction of sebum and especially when the sebum is not removed, as the bacteria and other dirt have free access to enjoy themselves and make trouble in the skin.
A cleansing a day is not enough
If you think that one round of cleaning in the evening is enough, then you are wrong. When the day has come to an end it is important to get your skin cleansed to become free of makeup, dirt and grime. Most people now probably think "that's it, then it will take a day before the skin has to be cleansed again", but unfortunately that's just not the case. At night, the skin is busy renewing itself and maybe you have even (hopefully) had a good night cream on. You wake up every day with a whole new potion of dead skin cells, sebum and waste products – delicious is it not? It is therefore just as important to cleanse the face in the morning as in the evening (see your aesthetician for different cleansing recommendations on dry skin), so that your skin is completely ready to receive the many active and delicious ingredients that are in your skin care product. In fact, makeup also settles beautifully on clean skin.
Choose the right cleaning product
Actually, you can not choose a wrong cleaning product. But you can choose a cleansing product that is not optimal in relation to your skin type and therefore is going to feel wrong. If you do not like getting too much water on your face, choose a cleansing product that does not require just that. We guide you here to which cleaning product we think is right for you. 
For you who prefer an easy and quick cleaning
Choose SuperFruit Micellar Water or One Step if you prefer an all-in-one cleansing product that cleans quickly and efficiently without the use of water. Superfruit Micellar Water, which is especially aimed at young skin, derives its properties from Nordic superfruits. The product adds vitamins, antioxidants and moisture. One Step cleanses, removes make-up residue (including eye make-up) and at the same time adds extra moisture.
For you who like to cleanse with foam
Do you like getting water on your face when cleansing? And should it also be a little easy? Then bring our Cleansing Foam into the shower. The cleansing foam cleans effectively and works both as a cleanser and toner. If you have particularly dry skin, however, it may be a good idea to finish with Tonic for dry skin after the bath.
For you who prefer a thorough cleansing
Cleansing Milk and Tonic is just for you! Cleansing milk is a thin and light product that is easily applied to the face. You place the product on a hard-twisted cotton ball and apply it in circular motions on the face and neck. Remove the product with a wrung-out cotton ball or cloth. Cleansing milk is available for all skin types and dry skin and it cleanses extraordinarily without drying out. Combine with a Tonic for dry and delicate skin or all skin types to leave the skin soft and fresh.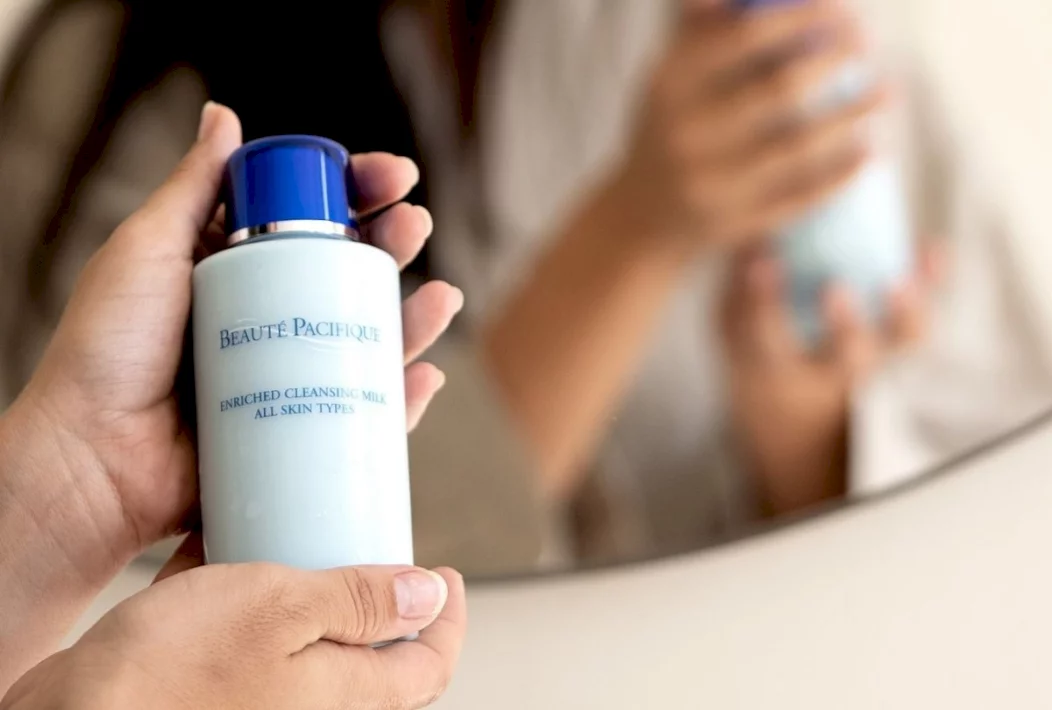 For you who want a little extra
Should there just be time for a little extra pampering a few times a week, then our clay mask is a match made in heaven for you. The clay mask absorbs and releases fat from the surface of the skin. It should be applied all over the face – or the desired areas – in a covering layer, with the exception of the eye area. Let the mask work for approx. 10 min or until completely dry. Then remove it with lukewarm water. Then use your favorite cleansing product and finish with a cream.