Facial care /
Put on the mask – and take your skin care to new heights
Put on the mask – and take your skin care to new heights
Treat your skin to a mask every now and then – it will love you for it.
Most people associate skin care with removing makeup and quickly cleansing the face, followed by a moisturising day and/or night cream. But if you want to give your skin some extra love, it's a good idea to add a mask to your routine every now and then.
How do I choose a mask?
There are many different types of masks; for example, they can be soothing, moisturising, stimulating or cleansing. Common to all masks is that they work in depth and can have a huge effect if you give them time to work.
Precisely the time – that a mask needs time to work – is often the excuse that keeps people away from masks. But there's a good reason why a mask treatment takes the time a mask treatment takes.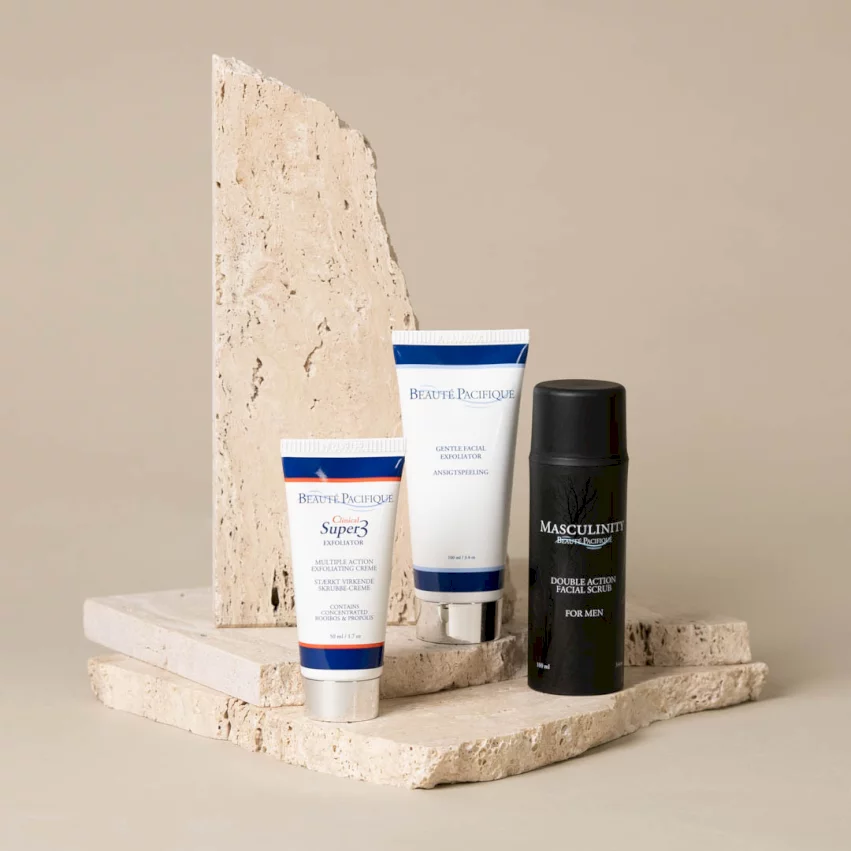 Why use a face mask?
In our Beauté universe, we make it a priority that every product has skin-enhancing properties. This means that, among other things, our cleansing products must be able to remove dirt, makeup and the outermost dead skin cells from the skin's surface and at the same time contain nourishing properties. All our creams contain moisturisers as well as restorative ingredients that boost skin renewal.
The reason you should prioritise a face mask is that it's a specialist product that works with one specific focus. The mask is the 'expert' so to speak, providing an ultra-focused treatment.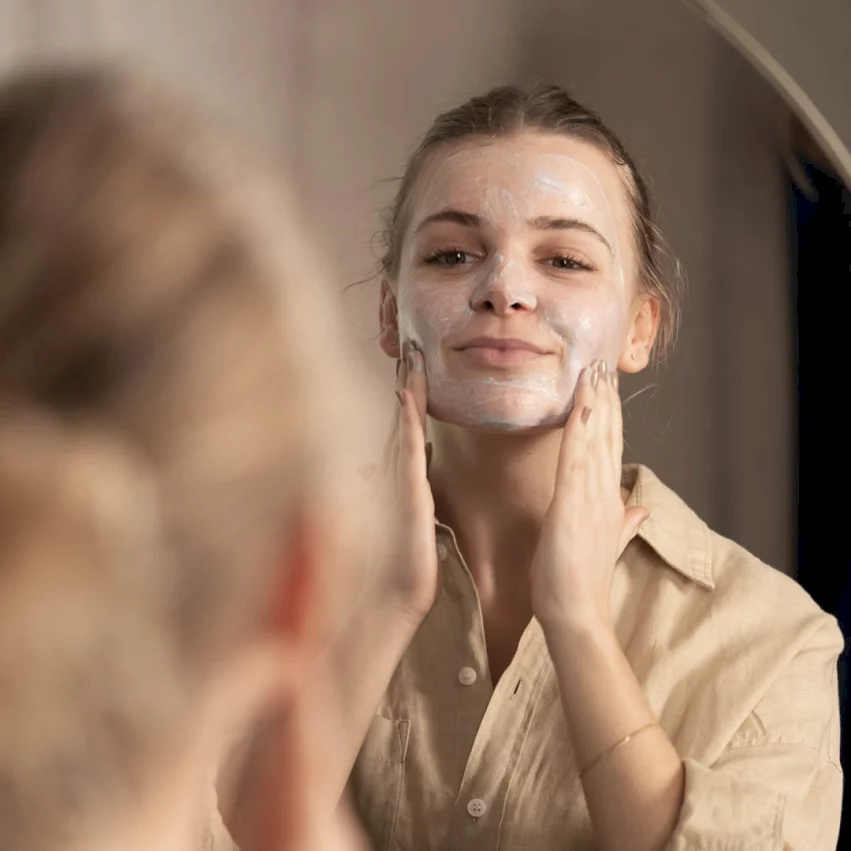 Do I need a mask when I cleanse and moisturise every day?
Your normal cleanser will do the daily cleansing and ensure that your skin is effectively cleansed. It works really well in everyday life, where many often prioritise a quick routine as time is short.
When you use a deep cleansing mask, such as a clay mask, you give your skin time to be deeply cleansed. The mask contains more cleansing properties and in a greater quantity than regular cleansing products and therefore gives a boost to the skin that your daily products do not.
The same goes for a moisturising mask, for example. Virtually all ordinary face creams contain moisturising properties that are adjusted in terms of quantity and ingredients so that they penetrate the skin more quickly. A moisture mask, on the other hand, contains more moisturising ingredients and in a much larger dose, so skin gets a really big moisture boost.
In addition to masks, there are also face peelings and treatment products that, like the masks, are good to add to your skin care routine. The exfoliating products in particular are also ideal for use with masks, as they pave the way for the beneficial properties of other products.
Therefore, we recommend that you also took a look at this blog post on how peeling can strengthen your skin.
Effective face masks
At Beauté, we don't have products that overlap or compete with each other. This is because we aim to create products that contain the best ingredients for each purpose, mainly targeting specific skin types and needs. Therefore, we do not have many different masks, but a few selected ones that give excellent results.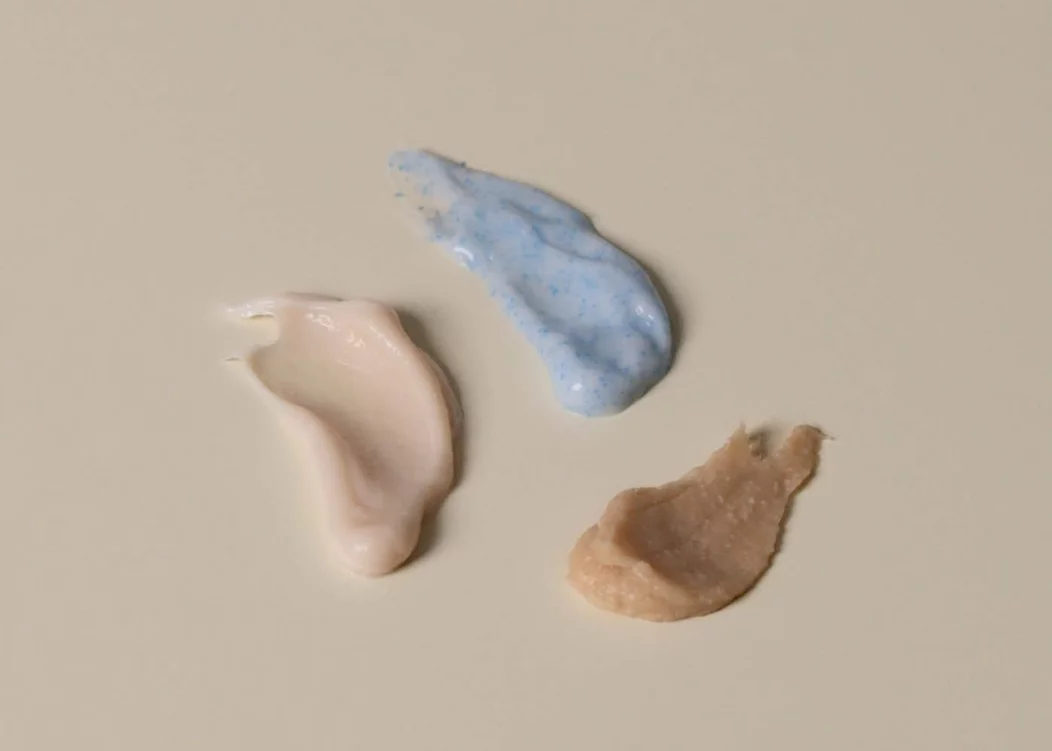 The deep cleansing clay mask
Many people love clay masks because you can see and feel the products working. When applied, the mask is like a thick cream, and when allowed to work in and on the skin, it will gradually dry in and create a 'firming' sensation in the skin.
The clay mask is both a very deep cleansing mask and at the same time a refreshment for the skin. It has a mild exfoliating effect and helps the skin to regenerate itself.
In our clay mask we use 3 different types of clay:
Kaolin is a light, white clay that cleanses the skin, boosts cell renewal and gives skin a glow because it increases blood circulation.
Bentonite, which is formed from volcanic ash that has aged over a long period of time. This type of clay is highly absorbent and purifying. It is composed of many minerals and vitamins.
Magnesium Aluminium Silicate; has very good absorbing and cleansing properties. In addition, it has a good texture, which makes it very good in skin care products.
The clay types are used in micrometer-sized particles, which provide an enormously large surface area and thus maximum 'absorbency'. It also allows the particles to settle into the skin's fine lines and hollows for maximum effect.
In addition to the clay types, the mask contains Citrus Limon Fruit Extract, which is a natural source of vitamin C. Vitamin C is a powerful antioxidant that stimulates collagen structure in the skin. This means, among other things, that it can delay the appearance of fine lines. The extract also contributes to the gentle exfoliation of dead skin cells.
In addition, the clay mask contains extract from fruits, which gives a freshness and soothing effect to the skin, as well as Menthol, that has a cooling and soothing effect on the skin.
The clay mask can be used for all skin types, but if you have very dry and very sensitive skin, you should not use the mask too frequently. The mask should always be followed by a lot of moisture – preferably our moisture mask.
The moisturizing face mask
Our popular moisture mask is a wonderful product that both replenishes moisture in the skin and lifts levels to new heights. It's also very flexible to use, which is probably what makes it so popular – and the results speak for themselves. It is probably the best moisturizing mask for the face.
The mask contains several moisturising and moisture-binding ingredients that both add and help bind moisture:
Glycerin; is one of the most moisturising ingredients and it penetrates easily into the skin layers, making the skin soft and supple
Squalane oil that occurs naturally in the skin, but with age disappears causing signs of ageing such as sagging skin and wrinkles. With a cream containing Squalane, the skin will be restored from within and it will regain elasticity and softness
Lanolin (pharmaceutical grade); maintains the skin's moisture balance and provides a beautiful surface.
Hydrolyzed collagen; is added because of its ability to form a moisture shield in the skin.
Vitamin E helps protect against free radicals and is a natural moisturiser.
The moisture mask also contains vitamin A, which has an eminent anti-ageing effect. Vitamin A is transported into the deeper layers of the skin by Squalane.
You can read about Beauté's patented transport system with Squalane in this blog post.
The moisture mask can be used in different ways. If you want a big boost, apply a thick layer of cream, allowing it to penetrate over time. You can massage the excess cream onto your neck and décolleté. You can also apply the mask in a thinner, but still generous layer, and sleep with it as a night mask. Finally, you can use it as a moisturiser, using it 3-5 times a week.
The stimulating facial treatment – AHA
Our Crème Lactique has properties that make it great to use as both a day and night cream – and we also recommend it as a spa product when the weather changes.
It's especially in autumn, when skin needs to adjust to colder, rougher weather, and in spring, when skin needs to be primed for drier air and more sunshine, that AHAs can be used as a treatment.
The cream has a number of good ingredients and properties:
Avocado oil, which is rich in vitamins, penetrates the skin together with the oil. In addition, avocado oil contains linolenic acid, which the skin will lack with age. Linolenic acid has a soothing, repairing and softening effect on the skin.
Lactid Acid – lactic acid that gently exfoliates dead skin cells from the skin's surface and increases moisture retention in the skin. The mild acid reduces signs of ageing, dryness and dullness and instead enhances the skin's glow.
Glycerin; one of the very best moisturisers that can be used by even the most sensitive skin.
When you use the cream as a treatment product, you must use up the entire jar. If you use it morning and evening, it will take about 1-2 months. Through the treatment, your skin will be refreshed from the exfoliation and get a lot of nice moisture and get the cell renewal of the skin going, which will eventually delay the ageing process of your skin.
How to use a face mask?
Is it such a hassle to add a face mask to your cleansing routine?
No, luckily it's quite simple. If you cleanse and care for your skin beforehand, you're well on your way.
Whether you use a hydrating mask, cure or clay mask, combine with a cleanser and, in most cases, a conditioning cream afterwards.
If you want to do extra good for your skin and get the optimum benefit from your products, you can give your skin a peeling. A peeling, scrub or exfoliation – a good treatment has many names – cleanses your skin and gives your products the optimal opportunity to penetrate and work in the skin, where it has the greatest and best effect.
You should not use a scrub every day, but rather as a supplement – just like the mask.
If you want to know more about facial peeling, we have elaborated on it in the blog post here.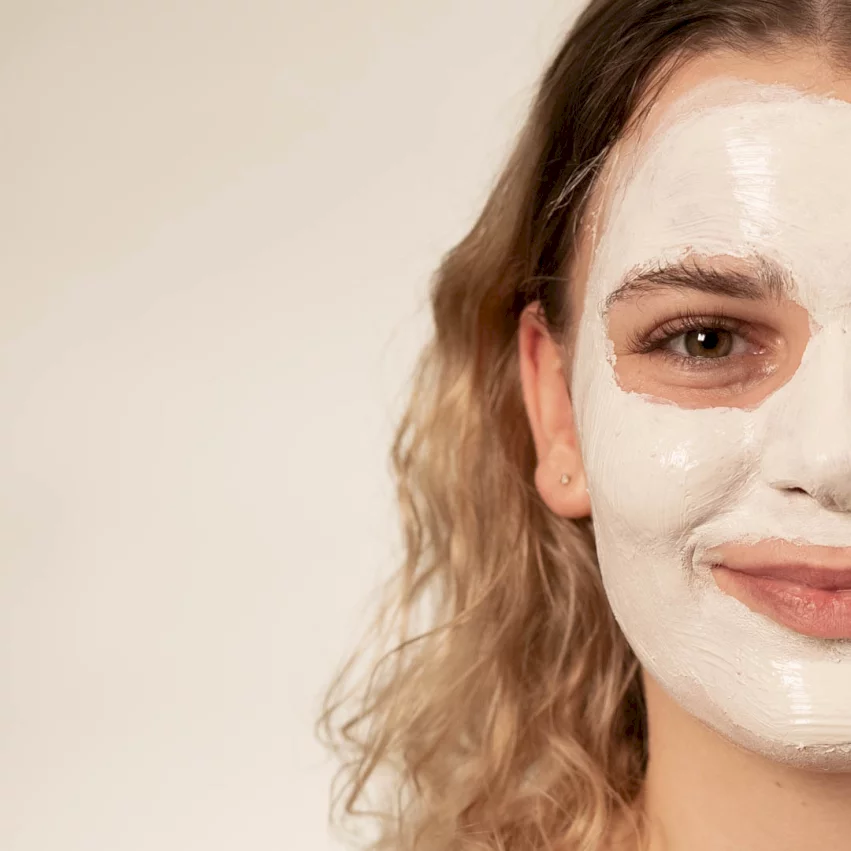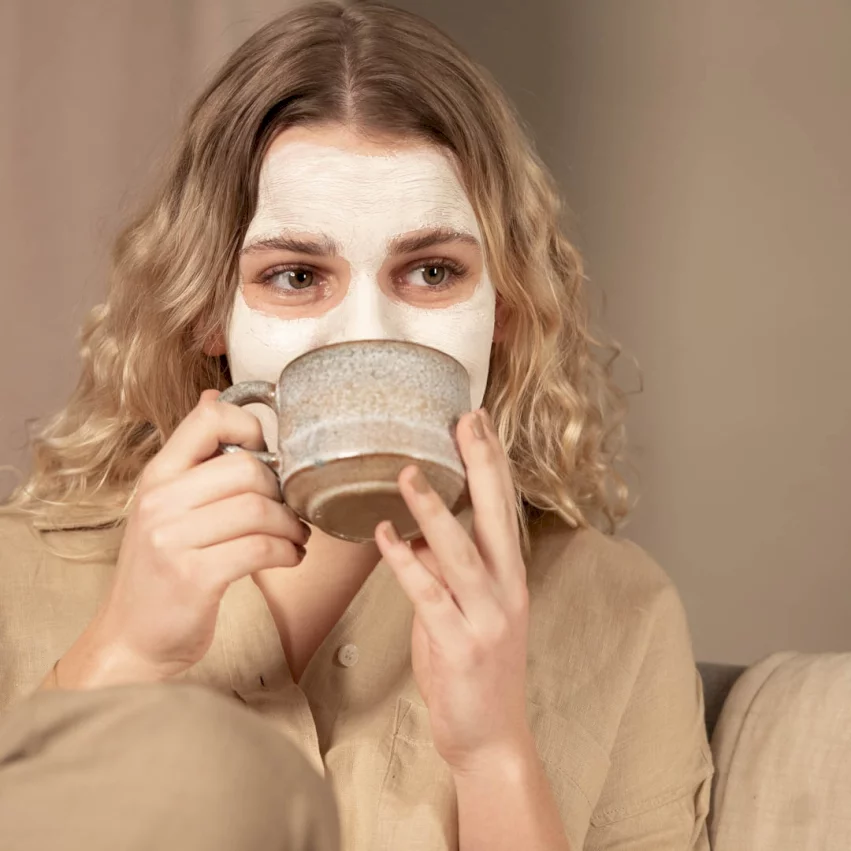 Spa day for the skin
If you want to have a big spa day for your skin, you can put together a small skincare series, just like if you were in a clinic.
We would recommend:
Your favourite cleaning product; either a wash or a 3-in-1 product depending on your preference
A peeling to remove dead skin cells and leave skin fresh and ready for deeper treatment
The clay mask, which deep cleanses the skin. If you have very dry skin, you should skip this point, or only use the mask in selected places on the face
Cleansing with skin tonic
The moisturising mask as the crowning glory and end of the treatment
Optionally your normal day cream, serum or night cream
If you're ready to go even more 'all in', you can complement with our fantastic hair treatment to give your hair extra care and shine, and your body can be mechanically exfoliated with our body scrub, followed by moisturising body lotion or body oil. If the feet need it too, they can also get a scrub and then a good layer of x-tra dry skinfix, which you leave on as a foot mask.
Remember to complement it with something nice to drink, maybe some cosy snacks, a good book in your hand or in your ears. You can also close your eyes and listen to relaxing music while enjoying the pampering you're giving your body.
Now the skin can breathe and regenerate, leaving it healthier, stronger and with a beautiful glow.
Aaahh….
Are you struggling with the mask time?
We know it can seem overwhelming to embark on a lengthy facial, and when do you have the time? We try to combine our mask time with other chores, and we have collected our own best suggestions:
When cleaning, why not 'vacuum' both home and skin at the same time. The vacuum cleaner in your hand and the clay mask on your face
When you're lying on the sofa watching your favourite TV show, put on your moisture mask to recharge your body and hydrate your skin
On weekends when there is extra time in the bathroom
While packed lunches are being made, make the most of the time with a biological peeling.
Introduce 'maskmonday' so you have established extra care for the skin