Masculinity Double Action Facial Scrub
Description
Gelaatsscrub voor alle huidtypes
Deze doeltreffende scrubcrème met cellulose kralen verwijdert dode huidcellen zodat de huid er enorm fris uitziet en aanvoelt. Propolis en rooibos werden toegevoegd om acneproblemen tegen te gaan. De crème zorgt voor een egaal en zacht huidoppervlak, verwijdert dode huidcellen, verhoogt het vochtgehalte van de huid, stimuleert de bloedsomloop, maakt verstopte poriën intensief schoon en gaat ontstekingen tegen die zich voordoen bij acne. Gebruik 1 tot 3 keer per week. Maak het gelaat vochtig en masseer de crème met cirkelvormige bewegingen in met de vingertoppen.
Laat de crème ca. 20 minuten inwerken en spoel daarna af met veel water. Vervolg met Masculinity Moisturizing Day Creme of Masculinity Anti-Age Creme.
UNIEKE VOORDELEN
Exfolieert de huid voor een gladdere en jongere uitstraling
Verwijdert dode huidcellen
Verhoogt het vochtgehalte in de huid
Stimuleert de bloedsomloop
Opent verstopte poriën en werkt ontstekingsremmend op een onzuivere huid
Details
Contents:

150 ml. Automaat

Unit price:

EAN:

A1000301
Ingredient list
Minor differences between the ingredients list below and the ingredients declared on the packaging may occur, because we continually improve the content of our products accordingly to the newest knowledge about health and environment
Aqua (Water)
Glyceryl Stearate
C12-15 Alkyl Benzoate
Propylene Glycol
Polyglyceryl-3-Methylglucose Distearate
Polysorbate 60
Glycolic Acid

is an extremely good exfoliator due to its great ability to penetrate and remove dead skin cells from the skin surface. Glycolic Acid also increases the moisture level in the skin.

Cellulose Acetate

are round microscopic pearls that loosen dead skin cells without harming live cells. Please note that these pearls are from natural origin and can be fully degraded without leaving pollution.

Glycerin

is one of the very best and most widely used humectants (moisturizers). It penetrates easily into the epidermis and makes the skin soft and subtle. This vegetable glycerine can without problems be applied to very sensitive skin types. It provides lubrication and leaves the skin soft and silky smooth. It is extremely comforting to very dry skin types.

Stearic Acid
Salicylic Acid

is a key ingrediens in the treatment of many skin disorders, for an example Acne and Psoriasis. Salicylic Acid disolves dead skin cells, opens clogged pores and prevents them from clogging again.

Sodium Hydroxide
Azelaic Acid

is known as an efficient ingrediens for the treatment of Acne and Rosacea. Azleaic Acid reduces and removes blushing, prevents pores from clogging and works aganinst the bacteria that helps cause Acne.

Propolis Cera Water Extract (PWE)

is nature's own defence against microbial infections found in bee hives where it protects the bees from diseases and fungal infections.

Salix Alba (Willow) Bark Extract

Phenoxyethanol
Ethylhexylglycerin
Xanthan Gum
Glycyrrhiza Glabra (Licorice) Root Extract

is the extract from Liquorice Root. This is well known as a wound healing extract, helping to reduce irritation within the skin and providing instant comfort to sensitive skin. It enables the skin to accept strongly reacting ingredients with less side effects, enabling more effective ingredients to be tolerated by sensitive skin.

Tetrasodium Iminodisuccinate
Maltodextrin
Aspalathus Linearis (Rooibos) Leaf Extract
Parfum (Fragrance)

The fragrance in Masculinity is created for Beauté Pacifique to leave a sensational fresh scent of a modern man while not containing any allergy potency as per the EU Regulation.
Delivery and return
Delivery fee is 5 Euro. Free delivery for orders over 70 Euro.
You have 14 days of cancellation right, valid from the day you receive your order.
You are obliged to return the goods in the same condition and quantity it is received.
You pay any costs associated with returning the goods yourself.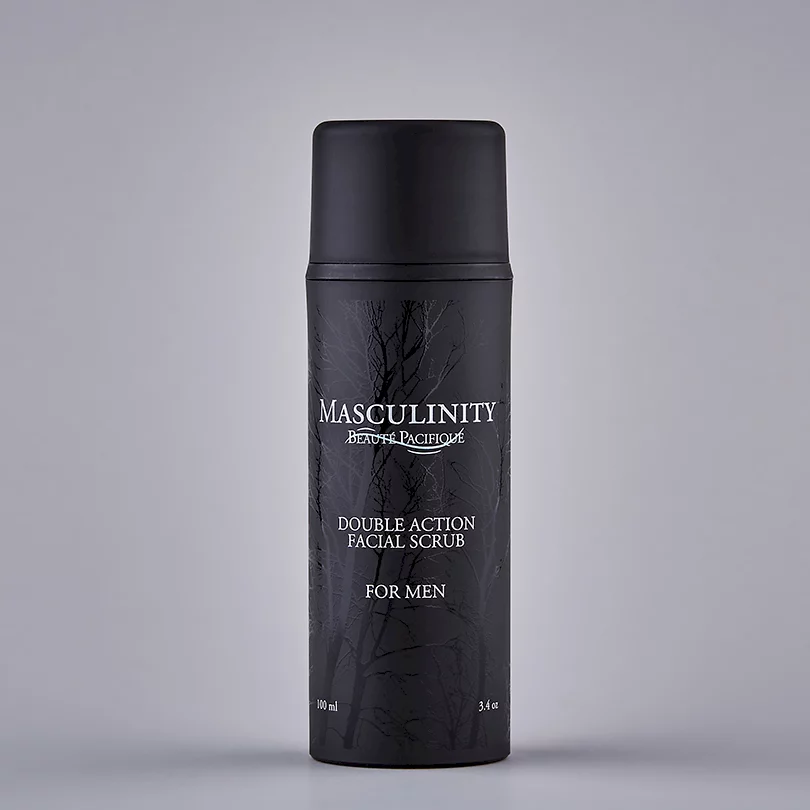 Best selling in same category