Beauté article
Sun protection
Summer has officially started and it's time to ramp up your protection in the sun.
No doubt you already know the importance of protecting your skin from harmful UVA and UVB rays all year 'round. As the weather is getting warmer and beach season kicks off, your skin needs more TLC to cope with the increased sun exposure. Always use a good, moisturizing sunscreen, remember to reapply sunscreen, and finish off with a repairing after-sun lotion for optimal care.
Our unique, moisturizing sunscreen range, STAY, is suitable for the entire body. It contains SPF 30 and protects against UVA and UVB radiation. All three sun care products in the STAY range have anti-ageing properties and include Vitamin E that fights damaging free radicals. Resveratrol and Procyanidin work to prolong the cell's lifespan and delay aging of the skin to keep it younger for a longer period of time.
Our anti-age sun care range consists of:
Stay Beautiful
Moisturizing anti-age sunscreen for face and décolleté with skin-protecting Vitamin E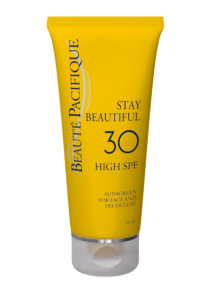 Stay Outside
Moisturizing sunscreen for the entire body with anti-age effect that reduces and prevents sunburns and sun-damage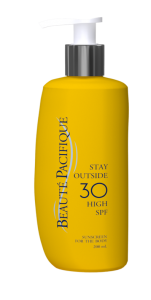 Stay Cool
Moisturizing and replenishing after sun with anti-age properties and non-toxic insect repellent effect that soothes and cools irritated and sunburned skin. Reduces redness in the skin and contains both Vitamin C and E